HOW DID FRANK UNDERWOOD'S AD PERFORM AGAINST BUSH AND RUBIO'S?
Exerpt
How would the campaign ad from Southern Democrat Frank Underwood (House of Cards) perform against campaigns from Jeb Bush and Marco Rubio?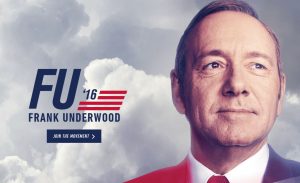 We conducted a scientific poll to benchmark Underwood's campaign ad aired during the CNN GOP Debate against Jeb Bush and Marco Rubio's.
We decided to share some teaser data on the Netflix "House of Cards" (HOC) ad for your entertainment!
Videos Tested:
Let's look at the numbers: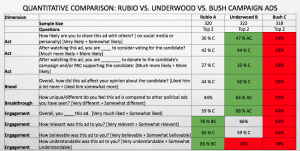 Underwood's ad dominated in likelihood to share, as well as being much more likable and different than Bush and Rubio's. Rubio's message was the most relevant and understandable to voters. Bush's ad under-performed in every key metric. Notice that after watching the ad, respondents are significantly more likely to vote and donate to Rubio and Underwood than Jeb Bush.
Read the origional article